THE GOAL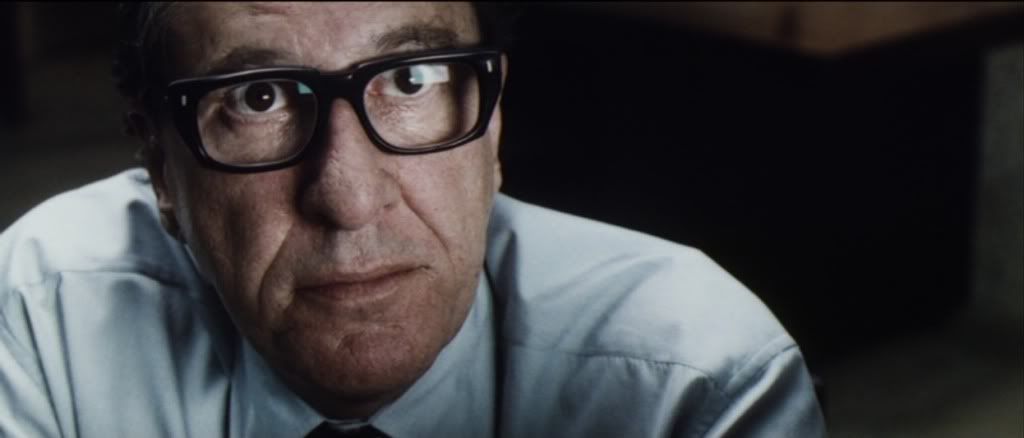 Ok so here we have the reverse of my previous post.  Here we have the incredibly talented Geoffrey Rush playing Eric Bana's superior in Munich.  This shot is an excellent use of lighting design.  Though I'm focusing on the closeups as my goal in lighting I do want to post a larger wide of the room to see what Kaminski and Bauman were planning with this scene: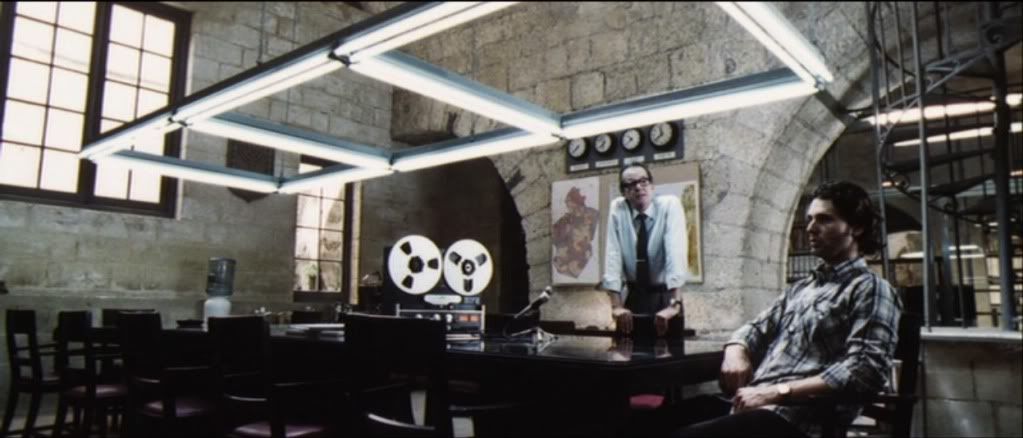 So Rush and Bana (I'll use their real names) are in the intelligence offices,  not a bad environment to work in I must say.  Israeli intelligence must have some creative types designing their offices…  
Anyhow I digress….  Here we have Bana questioning his role in all this violence.   One might look at this scene and assume its all lit the same.  The characters have the same lighting on them.  Badda-bing, badda-boom its a done deal.  But not for Kaminski.  He's carefully designed a lighting setup that fits the emotion of the characters.  Rush is lit "normal".  He's at the table, under the lights and hes lit in a very soft flattering way.  Bana, on the other hand is very different for his closeup. (see post Munich 46).  This is a great example of how you think the lighting would be the same, but it can be changed very effectively to tell the story.  We the audience clue in with the fact that Bana and Rush are not on the same page as characters.  Their lighting design reflects it.  
THE SETUP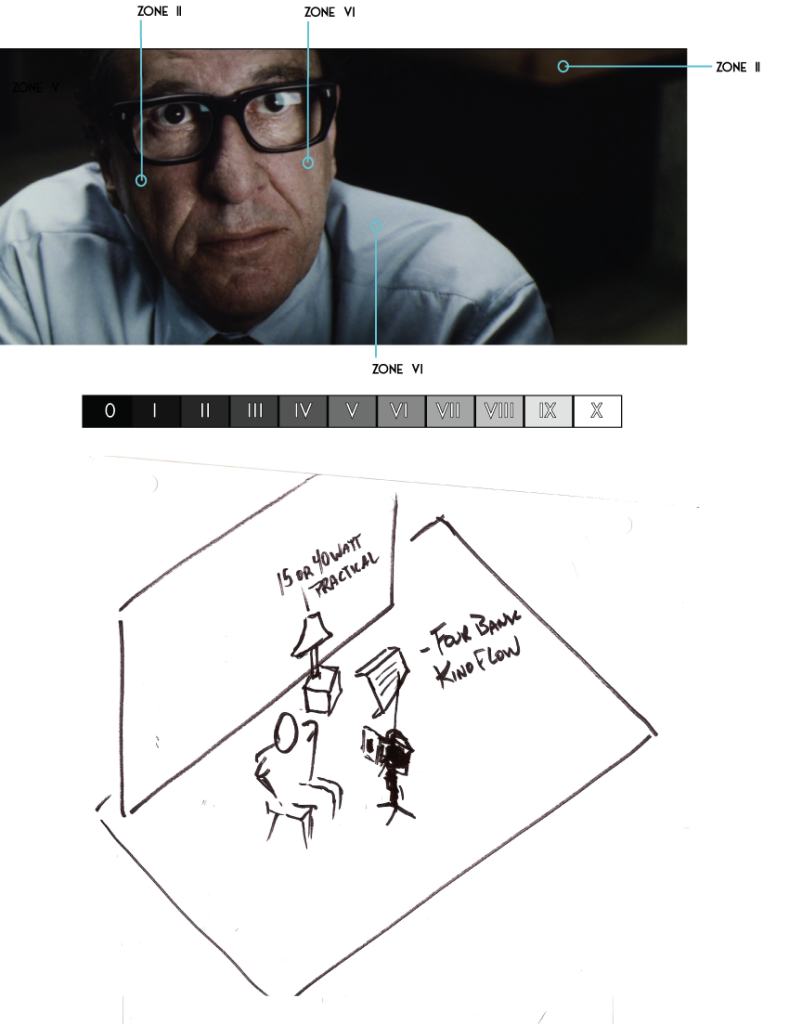 I'm willing to bet he used Kino Flos to light Rush for this reverse.  I'll be substituting Rosco litepads.  Not a bad value for the kit.  They work very similar to litepanels, but at a smaller cost.  Jeremiah and I decided the do a great job, but may not hold up in the field.   For studio work to do talking heads, they have been great! 
THE ACQUISITION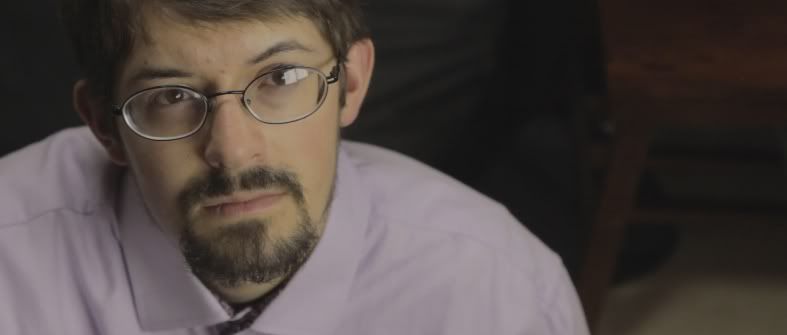 Here we go.  Straight out of the camera.  My buddy Jace was kind enough to sit in and play Geoffrey Rush for the day!  Keep in mind this is the flat looking Technicolor cinestyle.  You can definitely see the reflection in his glasses are 2 litepads instead of one 4x4 kino bank.  Also Jace's skin is less weathered and aged than that of Mr. Rushes.  Maybe something to keep in mind for a shot like this?    One thing Jeremiah and I agreed was that we botched the lighting on his shoulder and shirt.  Geoffreys is definitely hotter on the top of his shoulders and then the rest of his shirt bleeds off to a nice dark.  Possibly this was achieved by barndooring up the Kino in front of Mr. Rush?  In ours, Jace is completely washed out in front and I feel like theres a lot of dead space with his bright shirt being relatively the same tones as his face.  Too much of the same thing going on.  
THE GRADED FINAL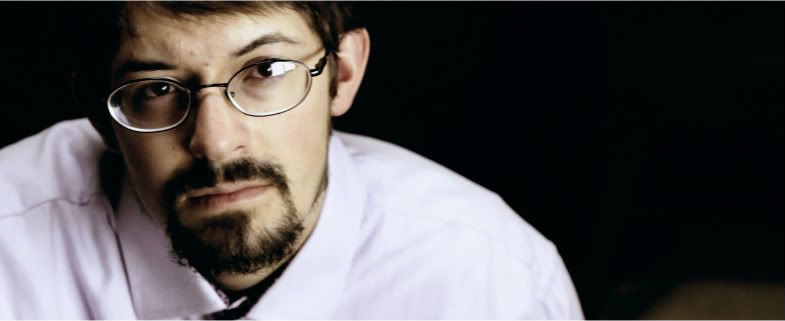 Here's the final with our crushed blacks and all.  Jace's shirt was not blue so that throws you off a bit.   I'm happy with the how the Rosco Litpads perform softness on his face.  The shadows look very similar to me.  I cant help but to be bugged by Jace's shirt being so bright.  Definitely need to flag that off next time or if we had Kino's barn door that up (or both).  Also, I can't help but love the richness that film produces.  As good as HD video is, it just doesn't have that feel of film on Geoffrey Rush's face.  So far I haven't been able to figure out that ever elusive, Shangri-la of HD video shooters: the "film-look".   I feel good about the placement, but can't say we nailed it on this one.  Oh well, theres always next week…
---
THE GOAL
Another shot from Munich.  Kaminski and Bauman create a desolate look on Eric Bana's face.  This is towards the end of the film as our character begins to really question his decisions.   He's spent the entire film killing for what he thought was the right cause, his country.  But, he has found that his humanity is lost.  In this scene he is disagreeing with his superior played by Geoffrey Rush who is assuring him that everything is fine.  Our character does not feel fine.  He is the shell of a human.  The lighting design for the scene is brilliant.  I will be attempting Geoffrey Rush's reverse shot as well.  Both are blown out a bit in a "bleach by-pass" sort of effect.  But Eric Bana's character in this shot is much worse.  T
THE SETUP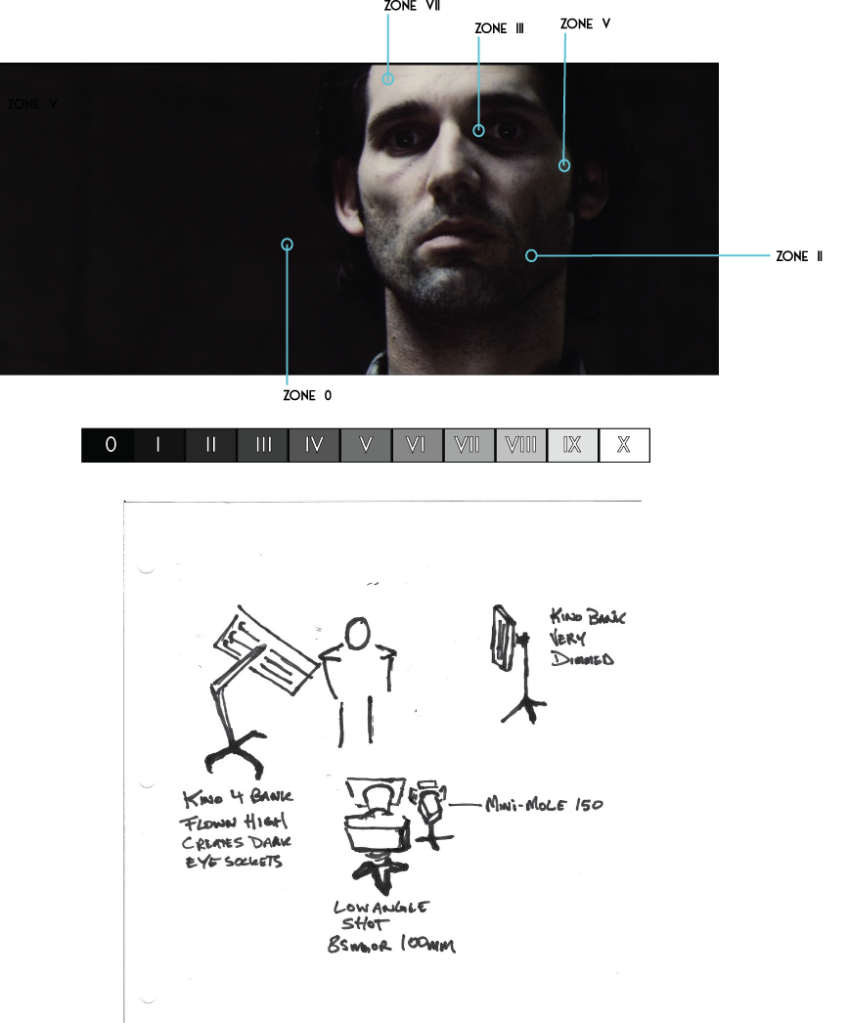 This is a terribly powerful closeup.  Bana's character is stark and desolate.   He resembles a skeleton of the former man he was.  This setup reflects that emptiness.  His face is washed out with dark eye-sockets.  To add to his cold, emotionless state, we see very tiny eye or "obie" lights reflecting from his dark eyes.  The man feels hollow to me.  
THE ACQUISITION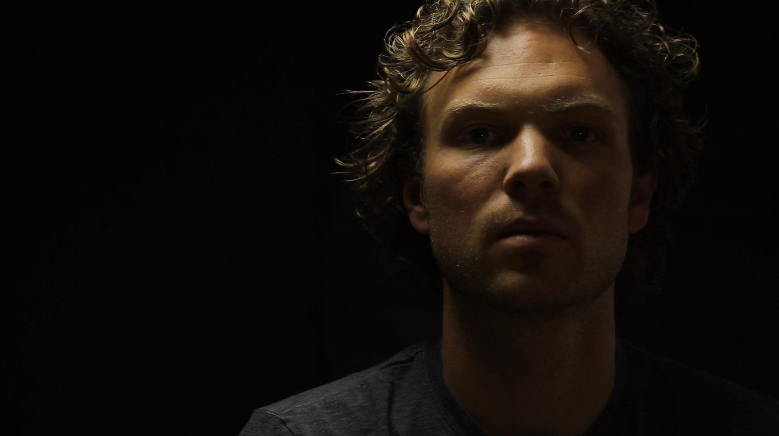 Here's the acquisition in camera.   This was actually not the Technicolor Cinestyle, but rather Canon's "Standard" Setting.  We squeezed this shot off during tests, but in the end, thought the light was placed the best to match the original so we went with it.    All in all we did pretty well.  I think the eyesockets are a tad dark.  Perhaps I would move the obie light a bit closer to punch that up and also bring up the details of the eyes.  Also eyeline is off and my head needs to move to my right slightly.   Other than that I feel pretty good about it.  I left this acquisition in the 16x9 ratio of the 7D sensor.  I'll crop the final grade to the 2.35:1 that Munich was filmed and we framed to.   Here's the breakdown of the spot meter:
Middle grey (incident) : f/4
Highlight of my forehead : f/5.6-7
Dark side of face : f/2.0-5
Eye socket : f/2.0-6
Camera was set to f/4
THE GRADED FINAL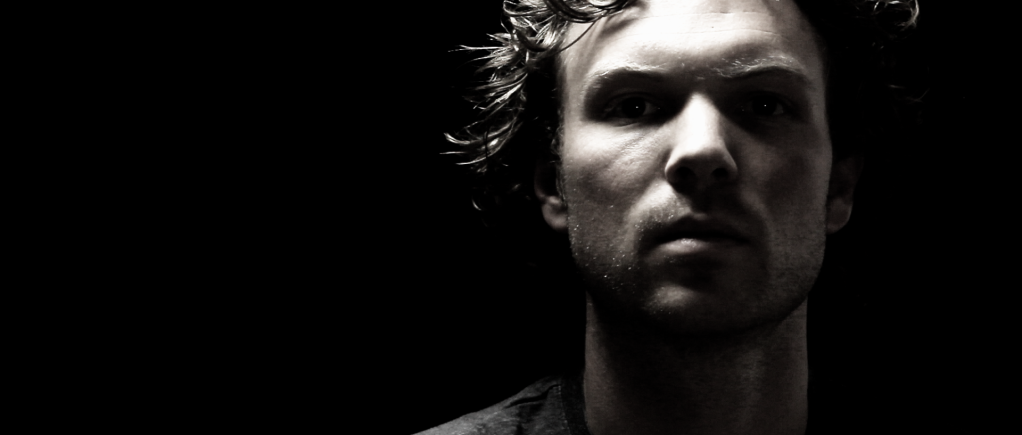 Not a bad final.  I'd like to move my head around to match the frame .   As it is I'm facing directly into the camera.  Bana is slightly off to the right.  In our later setups, we moved my eyeline to that side, but weren't as happy with that as far as the lighting goes.  Minor tweaks.  
---
Welcome to my lighting blog.  In the following posts you'll follow my friend Jeremiah and I as we study lighting setups from some of our favorite movies.  Our goal is to better understand lighting and work on as many lighting setups we can, some simple, some complex.  Thanks for stopping by!
THE GOAL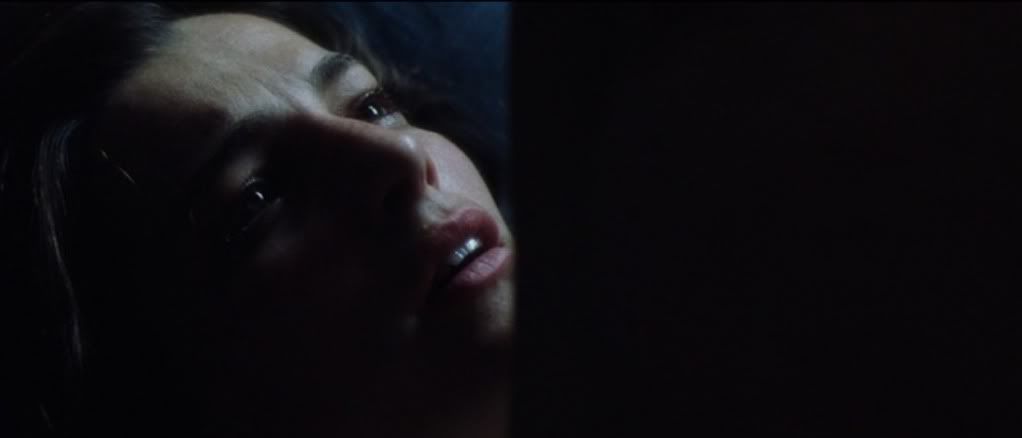 Here's a shot from the film Munich by Steven Speilberg.  A passionate film, one of my favorites explores the use of violence to end violence and the cyclical nature of that philosophy.    This intimate shot is from the end of the film as Eric Bana's wife looks deep into his forlorn eyes not liking what she finds.   DP Janusz Kaminski and Gaffer Michael Bauman beautifully photographed this story. 
THE SETUP
The challenge of this shot is the eyelight.  It appears he's using a soft light souce, possibly a keno or lightpanel (not sure they had those when Munich was made).  Today I haven't got a soft light, so I'm going to mix it up and see the difference if I use a hard light.  I've got a Mini-Mole 150 that should do the trick.   The only thing that will be challenging is to catch the highlight in her eye, without lighting the other side of her face….  Here we go!
THE ACQUISITION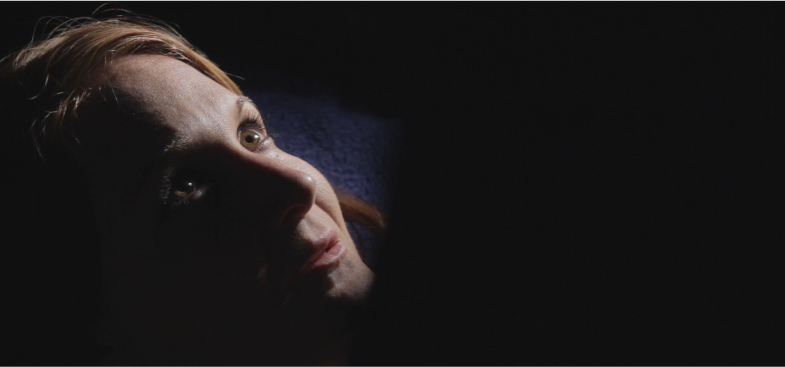 Ok here we go.  This is our shot using the lovely and talented Emily Brown of Emily Elizabeth Photo.  Kinda nice when your girlfriend is a photographer, she doesn't get bored with the lighting exercises!   The hard light is definitely rougher on her skin tones.  Also the shape of the eyelight is not as rectangular as Mr. Kaminski's original.  We can definitely see a difference in the shape of the eyelight.  I'd say I got the angle pretty good, but would have liked to see more of a "cat-like" eyelight from a kino-flow bank.  Oh well!    Keep in mind this is the Technicolor Cinestyle setting for the Canon 7D raw.  Up next will be my attempt to color grade it closer to the final film.    
Here's how my light meter readings came out.  
Incident Middle Grey:  f/4.0
Spot highlight side of face: f/5.6
Spot blue side of pillow behind face: f/1.4-4 
So with the camera set to f/4, her face is lit to Zone VI.  In retrospect I would have closed it down to f/5.6 to get a lower zone on her face.  Hindsight is 20/20.  
THE GRADED FINAL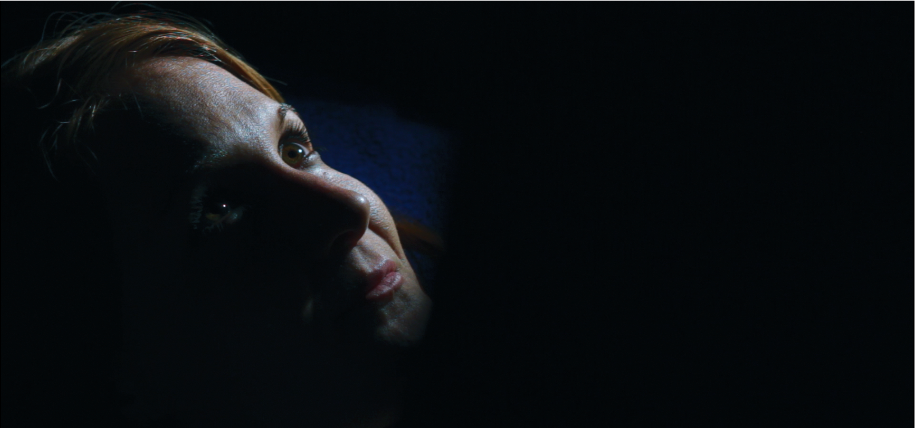 So here's the final.  Pretty fun!  I used Apple Color to grade and had to give myself a crash-course on using Technicolor's LUT curves.  Turned out pretty great!  Using LUTs in color got the image pretty close then I tweaked a bit.  In hindsight I'd like to use Kino-flos like Kaminiski did and also play a little more to get the eyeline perfect.  Either way we had a fun excercise!
---
THE GOAL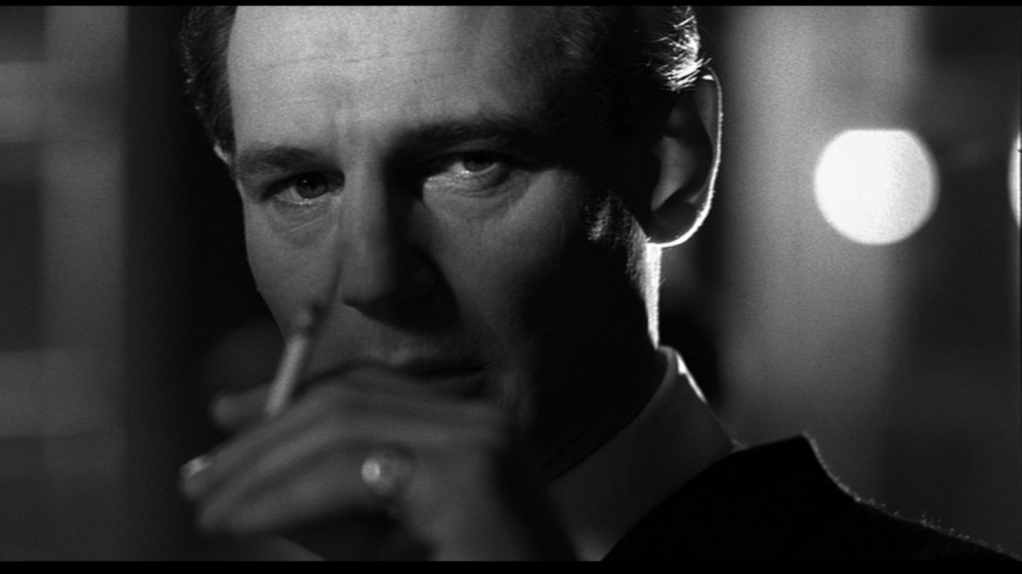 Cinematographer Janusz Kaminski and gaffer Mauro Fiore create the visuals to one of the most powerful human dramas, Schindler's List.  Through the use of a monochromatic scheme, the two tell the story of Oskar Schindler, German member of the Nazi party who found the value of human life, in the midst one of history's most horrific events, the holocaust.  
The image shows Schindler, a war profitier, as he survey's a nazi party, formulating his plan to use jews as labor in his company.  
The shot is moody and shows his intensity in an otherwise gentle moment - a party. This man is not here to play, He is at this particular party for specific reasons.
In the next few days I'll be joining forces with gaffer friend Jeremiah to try and reproduce this shot with the limited lights we have.  
THE SETUP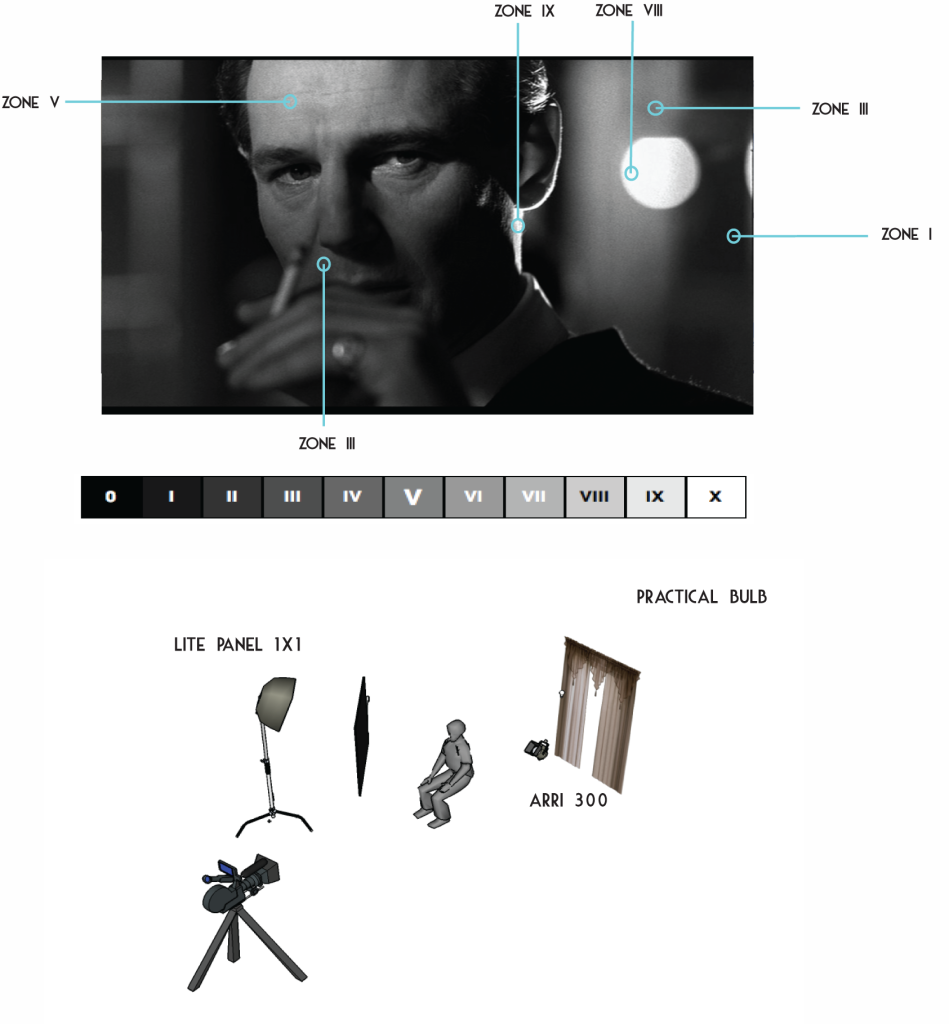 Here's the game plan.  We'll see how it turns out.  These lighting zones are my best guess looking at the image.  I'm not sure how scientific that is but I'm open to other thoughts…
THE ACQUISITION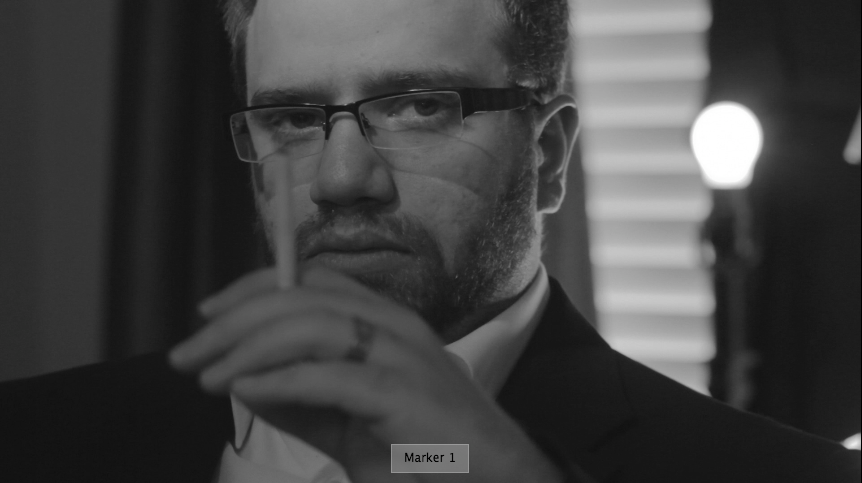 Ok so here's the acquisition.  We quickly discovered that using the light panel as the key on his face did not give us the ability to flag as we wanted.  I wanted a 2 stop difference from his forehead to his mouth.  We quickly switched to an open faced hard light 150 of the "home depot" variety.   This gave us the ability to flag the bottom of his face.  I will say that with the technicolor cinestyle, you barely see a difference from the flag.   Here's the light meter readings though you may not believe me on this picturestyle:
Highlight portion of his forehead (Key)  :  f/4.0
Flagged off area (from his hand)  :  f/1.4-4
Bulb in back : f/11-9
White blinds in back : f/4.06
THE GRADED FINAL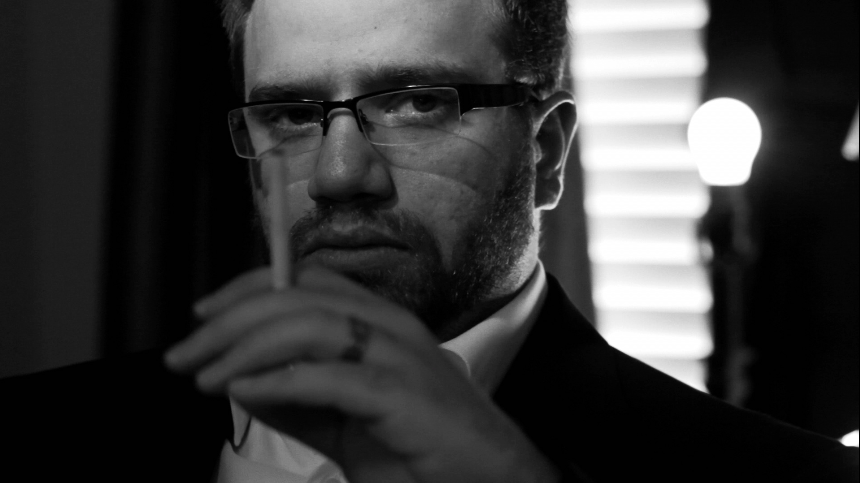 A pretty fun pic in the end.  I few things I learned was to not underestimate hard light and its use, especially when flagging is concerned.  Also I would have liked to punch in tighter probably by moving the camera closer.   This was an 85mm lens and we are definitely further back than the shot by Kaminski.  Also even at f/2, the bulb in the back is still noticeable as an actual bulb.  In Kaminski's shot I'm willing to bet Liam Neeson was actually further from the bulb that Jeremiah was pictured.  Had our room been larger or the bulb been able to be place outside the window somehow, we would have had a more buttery "bokeh" background.  
---